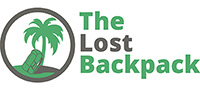 5 great luggage options for the new Ryanair cabin bag size policy
Ryanair is one of the most popular low-cost airlines in Europe. Based in Ireland, it carried the most passengers among European budget airlines in 2016. The airline serves 37 countries in the Middle East, Europe, and Africa.
As of November 2018, Ryanair has decreased its carry-on baggage allowance and implemented stricter rules. You should go over the new bag policy rules before your next trip to avoid an unpleasant surprise at the airport. We have summarized the new policy below, but this can change at any time, so it's best for you to doublecheck.
Ryanair baggage policy as of November 2018
Only one small bag is allowed in the cabin.
The bag's dimensions must not exceed 40x20x25 centimeters (15.7×7.9×9.8 inches).
In some cases, passengers may pay additional fees to upgrade their ticket (priority boarding, plus, flexi, family tickets) in order to be able to carry on an additional bag that does not exceed 55x40x20 centimeters (21.6×15.7×7.9 inches). This bag may not weigh more than 10 kilograms (22 pounds).
Passengers may bring medical equipment on board in addition to their carry-on baggage allowance.
An adult traveling with an infant may bring a baby bag weighing no more than five kilograms.
Typical hand luggage that will meet these requirements include purses, handbags, laptop bags, and small backpacks. In order to check your bag, you can put it inside the bag sizer at the airport. Your bag should fit completely within the metal frame.
If your luggage slightly exceeds the allowed dimensions, you could try to see if it passes muster at the airport. A non-rigid bag, which is not fully packed, could be squashed down a bit into the sizer. However, you should be prepared to check your bag and pay any additional fees if airline agents decide to strictly enforce the policy.
In addition, you will want to take into account the fact that you may have souvenirs to pack into your luggage for the return trip. If you don't plan for space in your checked luggage and you stuff souvenirs into your carry-on bag, you could exceed Ryanair's allowed dimensions.
There are small luggage scales available which will be helpful if you need to check your bag's weight. Consider taking this along on your trip so that you can also check bags before your return flight. You'll likely have more items in your bags on the return trip.
Some of the best carry-on luggage options available online
To be safe, consider getting a new bag that meets the requirements. We've done the research and gathered the specifications. Below, you'll see our recommendations for great bags for your travel adventures.
Although the current maximum size of allowed bags is 40x20x25 cm, there are actually very few models with the exact same dimensions. This is why some of the bags listed below can slightly exceed one of these sizing limits. Usually, 1-2 cm over the limit will be overlooked at the airport, or if you don't fully pack your bag, it could be folded to fit the maximum allowance.
Another thing to keep in mind while shopping for a new piece of luggage is to look at the specifications to determine the bag weight. Remember that you will be carrying your bag around the airport and throughout your trip. All other things being equal, you'll prefer a more lightweight bag. In addition, check the options available for carrying the bag; bags may offer backpack straps and carry handles on multiple sides. Some feature the ability to strap the bag on to a suitcase trolley handle.
You'll also want to look for durable waterproof fabric that will hold up to the weather and to heavy handling. Many bags offer a padded laptop compartment in order to protect your valuable electronics. Check that the bag offers strong zippers that someone will not break easily in order to bypass a padlock.
Aerolite Cabin Luggage Flight Bag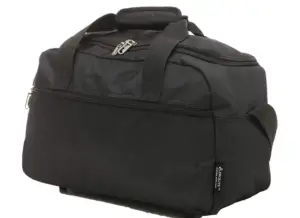 This Aerolite bag matches the exact maximum dimensions for Ryanair ( 40x20x25 cm). It has a top carry handle, adjustable shoulder strap, and weighs 399 grams. Heavy-duty zippers allow you to secure the main compartment with a travel lock that you provide.
A large front zipper compartment provides the perfect place for your boarding pass and newspaper. The back luggage strap enables mounting of the bag on to the trolley handles of a suitcase. You may purchase this bag in black, rose gold (similar to pink), or wine (similar to red). Some customers on Amazon have stated that the bag is made out of a cheap material; however, if you need an economical bag, this may be a good choice for you.
Classic CabinZero Travel Cabin Bag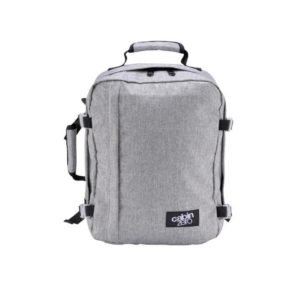 The 28-liter version of this bag in the CabinZero line weighs just 600 grams, yet can fit a 13-inch laptop. It measures 39×29.5×20 centimeters. This size exceeds Ryanair's regulations slightly; plan on filling the bag loosely and pressing the non-rigid sides into the airport bag sizer.
The polyester bag sports a front zipper pocket and water-resistant coating. Available in over 20 beautiful colors, the bag has top and side grab handles along with air mesh shoulder straps. Strong YKK zippers will keep your items secure when you lock them together with your travel lock. Okoban tracking is available with this bag. Simply log into the Okoban website and register your bag's tag number. This number may be used to trace your bag if it is ever lost or stolen.
Fjall Raven's Kankan 13-Inch Backpack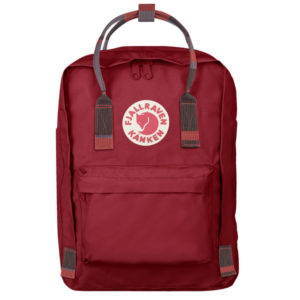 The Kankan line has served travelers well since 1978. This smaller model holds a 13-inch laptop in its padded compartment. Made of Vinylon F, a synthetic water-resistant fabric known for its durability, this bag weighs 345 grams.
The bag is quite a bit smaller than the Ryanair carry-on baggage size limits. It measures 25x35x16 centimeters. For a bag that is so small, it's impressive that it also includes a removable seat pad, front and side pockets, and a reflector on the logo.
Thule Accent Backpack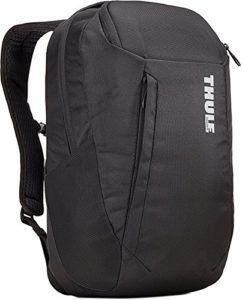 The Thule Accent Backpack comes in a 20-liter model that weighs 880 grams. At 28x24x44 centimeters, it is slightly larger than the Ryanair limits. This model is only available in black.
The bag will hold a 14-inch laptop and a 10-inch tablet in padded compartments accessible through the main compartment or via side zippers. A hidden reinforced pocket provides a crush-proof safe zone for sunglasses and your phone. Small accessories such as a power bank may be placed in a small front pocket. You may stash your water bottle in a side mesh pocket.
The main compartment has a U-shaped opening which makes it easy for you to load and unload the backpack. You can easily mount this bag on to rolling luggage.
Bronze Times Laptop Backpack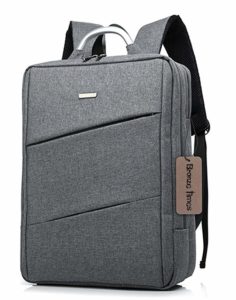 This stylish men's backpack weighs 499 grams and has slightly larger dimensions than that allowed by Ryanair. It measures 30x14x40 centimeters.
Made of water-resistant and shockproof Oxford cloth fabric, the bag comes in several gorgeous colors. There are mesh padded adjustable straps for wearing as a backpack. You also may carry the bag by its lightweight aluminum alloy handle.
Before your next trip on Ryanair, you will want to check your carry-on luggage and make sure that you have an option that will pass inspection. At the same time, you want to take a bag that will travel well; consider features such as waterproof fabric, padded laptop compartments, strong zippers, and water bottle holders. One of the bags discussed even had a removable seat pad, which would come in handy if you plan to do a lot of hiking. Plan your gear well in order to ensure a hassle-free and fun experience flying on Ryanair.