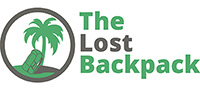 4 best Travelers Choice luggage options for your next trip
When it comes to travel, we think of many things to prepare for. But one of the most important aspects is the luggage. Immediately after we plan our travel we start to think at the most appropriate type of luggage needed to have a good trip.
So that you can make an optimal choice, we researched the products of one of the best luggage producers, Travelers Choice. They produce different types of premium baggage: vertical or horizontal ones, 2 or 4 wheeled carry-ons, casual luggage, charging backpacks, and even sports carry-ons.
All of them are suitable for a solo or family holiday, short trips or long vacations. Although they have many products where you can choose from, we will present only their best-rated luggage.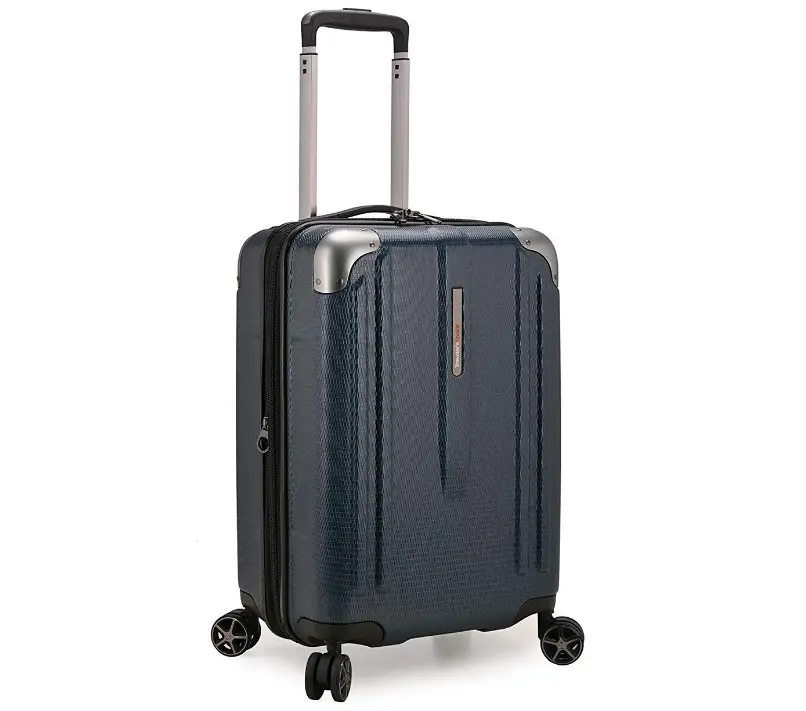 Size, weight, and color
It is a 22-inch case, with the overall dimension of 21.5″ H x 14″w x 9.5″ D. It has a 2-inch expansion gusset that provides 25% extra packing space. Nevertheless, if you like this model but you want a larger case, you can choose the other two sizes 26 or 29 inches.  The weight of the baggage is 7.47 lbs and you can choose it from the following set of colors: gray, navy, silver or brown.
Mobility and endurance
It provides a 360-Degree spinner wheel system that makes the wheels to roll swivel smoothly and effortlessly. The case has a durable telescopic handle made from aluminum, it pulls out and folds back in easily.  An extra feature of this product is that offers a resistant hardshell with riveted corner guards. It looks nice and is also creating great protection and long term insurance durability.
Design and interior
The textured finish of the suitcase prevents unwanted scratches or dings that may occur during use. The interior is generous, the main compartment features a clamshell setup. It includes perfect cross-tie straps for keeping the clothes in better condition. It has a zippered divider, and two pocket areas, fully lined with navy fabric.
It is a very sturdy and attractive suitcase and you can find this product between $79-$90.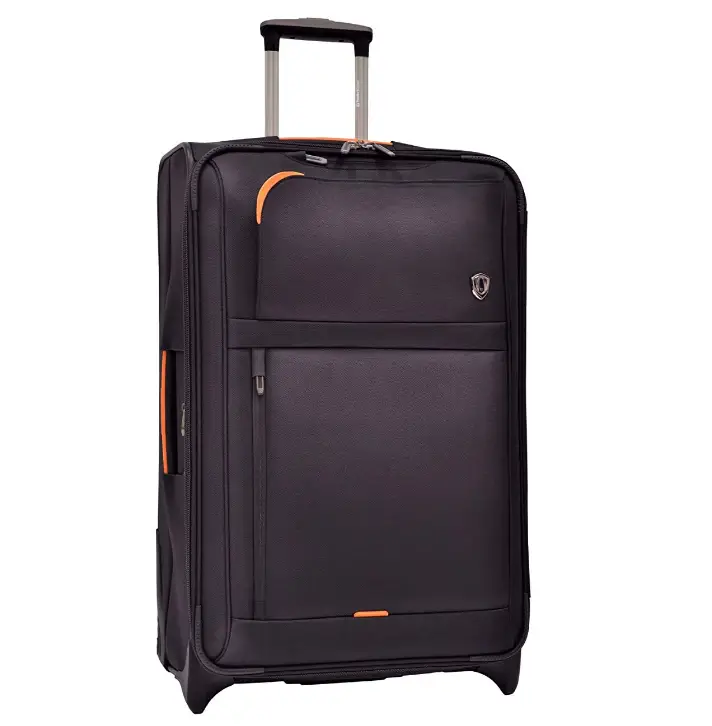 This luggage is suitable for both short trips and long trips. You can either use it alone or with your family.
Size, weight, and color
It comes in 3 available sizes: 21 inch (21″H x 14″W x 8.5″D) weighing 9.6 lbs, 25 inch (25″H x 16″W x 9.5″D) weighing 11.9 lbs, and 29 inch (29″H x 18″W x 10.5″D) weighing 13.7 lbs. It provides an expandable interior of up to 30% percent, giving plenty of space for storage. Though, the colors available are only black or red.
Mobility and endurance
If you find more convenient 2 wheels instead of 4 spinning wheel suitcases, then you can consider this luggage as a very good option. The wheels have crash-guard housings for better lasting endurance. There is a telescopic handle that is sturdy and solid, without any wobbling. Plus that the suitcase is made from durable 1680 denier water-repellent fabric, which is great for an outgoing person. Also, it contains protective skid and corner guards, to keep it safe from bumps and bangs. They are practical as well as attractive.
Design and interior
Traveler's Choice Birmingham Expandable Rollaboard features a lightweight and practical design. The interior looks good, it is completely lined and has a nice zippered mesh pocket. It also has straps to secure your clothes, a U-shaped zippered lid pocket and an elastic shoe holder on the left and right sides.
Overall, this Travelers Choice luggage piece is attractive, functional and resistant, ideal for people that travel often. The price is variable, related to the suitcase size, from $69 to $99.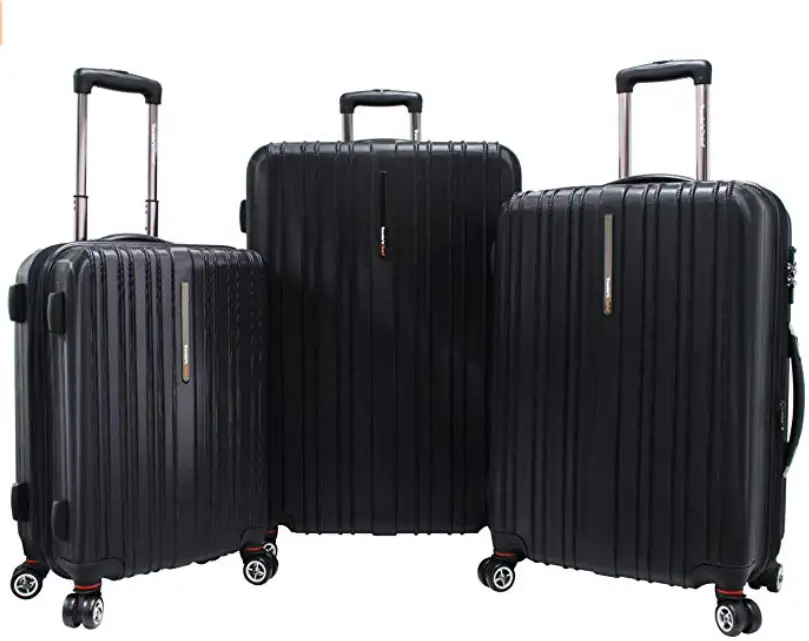 This set of suitcases is perfect for the entire family. Or if traveling is your lifestyle, with this set you can adapt your luggage according to each trip.
Size, weight, and color
Tasmania luggage set comes with 3 pieces: the smallest size – 21 inch (22″H x 15″W x 9.5″D) weighing 7 lbs, the medium size – 25 inch (25.5″H x 17.5″W x 10.5″D) weighing 9.2 lbs, and the large one – 29 inch ( 29.5″H x 20″W x 11.5″D) weighing 10.8 lbs. All of them provide a 2-inch expansion gusset that gives around 25% extra packing space. The colors from which you can choose the set are black, dark brown, navy or purple.
Mobility and endurance
All of the suitcases presents dual spinner wheels. They have carry handles on top and sides for a better grip, and self-locking telescopic handles to carry the weight easier.
Related to endurance, the Tasmania suitcases are made 100% from pure Polycarbonate, one of the strongest materials for luggage. It can absorb smaller impacts and withstand scratches.
Design and interior
The design is made in a diamond-cut pattern that provides resistance and long term durability.
When it comes to the interior of the suitcases, they are organized with a U-shaped zippered lid compartment. There are also three zippered pockets, and tie-down straps to secure your belongings. If needed, all three suitcases have straps hidden beneath the top handle, so you can attach all three of them to move easier through the airport.
You can use this set in any combination, even individual or together with your family members or friends. The price of the Tasmania 3-piece luggage set varies between $250 and $300.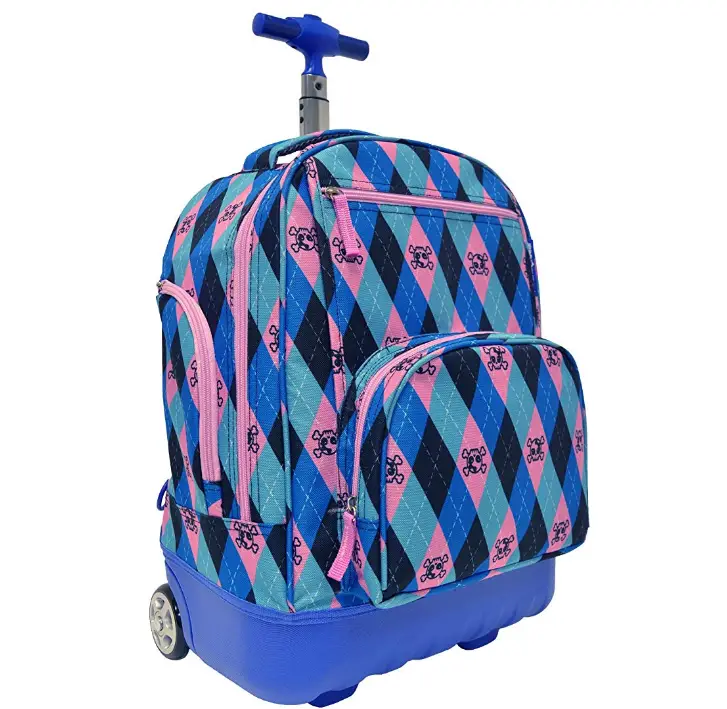 Pacific Gear, is a brand by Travelers Choice and it's specifically for an outdoor and active lifestyle. That is why this backpack is suitable for outdoor activities or short, city breaks and weekend trips.
Size, weight, and color
The size of the product is 18 inches (18″ H x 13.5″ W x 8.5″ D) weighing only 5 lbs, which makes it ideal for travelers. Also, there is a large variety of colorful prints from where you can choose.
Mobility and endurance
The backpack presents two soft and quiet wheels and a hide-away wheel cover. It has an ergonomic aluminum telescopic handle with a length of 25 inches for easy maneuverability. It has a polycarbonate molded bottom which makes it both light and durable.
Design and interior
The Pacific Gear shoulder backpack combines a youthful design with practical functionalities. The interior compartment has a U shape opening and plenty of space to deposit your belongings. Also, you can use the multiple front zipper pockets and the side mesh pocket for a water bottle.
It is ideal for outgoing persons, students, travelers, and even professionals. The prices you can find for this product are between $50 and $70.
Now, even if you travel for only a few days, or if you travel for a longer period, you need to organize your luggage in an easy and useful way for the trip. That is why we presented you with different types of luggage that can be suited according to the chosen trip, from a manufacturer that is recognized for the quality of its products.